I was in
Culver City
yesterday w/ my friend Esther. I was actually born there, but haven't been back to visit/play in a good 6+ years. In fact, the last time was when I had dinner w/ this guy I met on Jdate.com in 2001. The date & my impression of the main drag was a real bust.
Anyway, Culver City really isn't that far from Long Beach (25 miles or so), but hey, this is LA! Distance may not mean much when you're in Nebraska, but here in SoCal? Traffic can KILL a quick jaunt up to LA proper in a heartbeat, making you wish you'd never left your house in the first place.
But I digress.
So we're walking around and I'm just SHOCKED at the renaissance that has hit the "downtown" area. There are great little shops &
galleries
(in fact, I purchased a beautiful little painting for Dexy's room @ gallery called Wonderful World of Art),
restaurants
, coffee houses, 3 movie theaters, a gluten-free
bakery
, wide tree lined avenues, etc. all surrounded by DARLING little neighborhoods that are so family friendly, I could just cry! Is it possible that I'm supposed to stay right here in CA after spending the past year running away from it (and everything else in my life) as far & as fast as I could? Hmmmm... and wouldn't it be ironic if I bought a house in the city I was BORN in?
Okay, I digress again.
The whole point here was to tell you about this great little gadget we saw in an equally great little store on Main Street called
SportEve
(the gals there are awesome by the way, so if you're ever up in Culver City, be sure to stop in & say hi!).
The neat-o gadget is called the
Solio
. It's this sweet solar battery charger for small electronics like iPhones, iPods, digital cameras, etc. I didn't buy one yesterday b/c I'm kind of a ultra neurotic Research First Gal, but I wanted to show you at least how cool looking it is. Oh, and it also comes in hot pink! Sorry for the poor quality of the image, this was the best I could get off their website.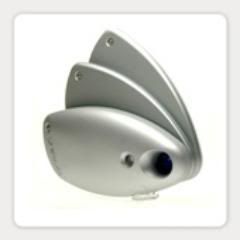 I'm so obsessed w/ ways I can live a Greener life, leave a less invasive or destructive Carbon Footprint on Mother Earth, so that my daughter actually has something left of it to look forward to for her life, and the life of her kids.
More on that in another post, on another day. I'm late for a lunch date w/ a former co-worker and fellow mama (of twins girls!) who I worked with at Epson.
Cheerios, exes and ohs,
Cher ~