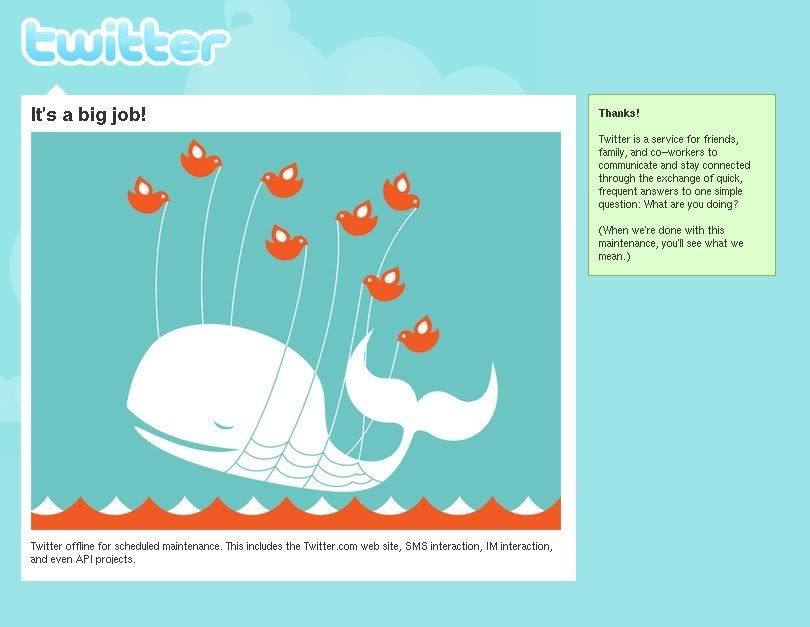 Well, I suppose it was inevitable.

Now that twitter is "popular", there's more people, and with more people come more problems, hence it seems to be down at least once a day, EVERY day. I was late to the twitter game (only joined about 3 months ago) but it's like serious crack to me. And now that I'm a junkie twitter crack whore, I

need

my fix whenever I

want

my fix, and damnit I do NOT want my dope all cut up w/ baby aspirin or other "broken" bits. Ya know?


And FWIW, I would

totally

pay to have my twitter account (that's how addicted I am), IF and only if they actually had the thing up and running all day, like it used to be. Of course, with pay accounts comes Super Elitism Attitude; i.e. what would they give me if I paid $15-$20 a year for twitter? More bandwidth, more archive capacity, more profile gadgets? How would they designate pay accounts so our

special-ness

is very clear to those don't pay? See where I'm going with this?

Anyway...

Since I can't send out my usual 9000 tweets today, I'll post some of my Daily Fun here instead. Which is probably what I should be doing anyway, instead of obsessing about an addictive little application that never works anymore.

My Day (so far), in a nutshell:



W

oke early (5am) & chilled in bed sending tweets about Hot Political Issues until almost 7am...

L

et the Evil Toto dog outside to potty, even though she'd already gone #1 and #2 in the kitchen - as she has done

every single day

since I brought her home from the boarding kennel last Thursday...

S

tarted a pot of coffee...

T

ook a shower...

B

aby girl woke up at 8am (way late for her, she must be entering a growth spurt)... Got her out of bed & changed her diaper, dressed her, made breakfast for her, etc. ...

W

hile she was watching Sesame Street, I got dressed too...

D

rove to her Pediatrician where I thought she had a 9:30am appointment...

T

urns out her it's NEXT week...

H

uh. How did I f**k that up, I wonder?...

T

ook Dex to school...

S

topped at Chevron to gas up my Subaru (13 gallons = $54)...

W

ent to USPS to pick up mail that I had on "Vacation Hold"...

D

rove home...

A

rrived to discover incontinent dog had AGAIN gone potty all over the kitchen floor...

M

ade instant decision to give her "The Gas Pipe"...

T

ook her to the ASPCA instead as an "Owner Relinquish"...

Y

es, it's true I have finally given my parents dog away (I'm sure someone will adopt her, so don't judge me man!)...

W

ent to Fusion Sushi on Palo Verde & Spring for lunch but I can't really recommend them, sorry...

C

ame home to an empty & dog-poop-free house (exhale)...

G

rabbed bottle of cold water from fridge ...

S

at down at my desk, dropped iPhone into charger, turned on the iMac...

And here I am.

Whew!

I'm sure I've forgotten tons of other stuff, but this will have to suffice until I can get back on twitter. Will be time to go get the baby girl from school soon, would like to check up on my email & other computer related stuff before I leave again.

Hope y'all are having a good day!

Cheerios,

C ~